Past Events - 2009
Caltrans Procurement Fair
December 7, 2009
9:00am - 1:00pm
Jack London Aquatic Center
115 Embarcadero
Oakland
FREE Admission
Registration Deadline: November 25, 2009
The fair will enable vendors, especially disadvantaged, small and disabled veterans businesses to meet Caltrans purchasers, and have an opportunity to network and sell their products.
Click here for the list of commodities and services that MAY be procuring.
Click here for registration form.
Asian American Architects and Engineers
32nd Annual Dinner - Save the Date!
November 6th, 2009
InterContinental Hotel San Francisco
Keynote Speaker Gregory C. Farrington, Ph.D., Executive Director, will present the vision and reality of integrating architecture, science, and the culture of sustainbility. When Dr. Greg Farrington joined the Academy in early 2007, the stage was already set for this transformation - a record-setting new building expected to receive a LEED Platium rating from the USGBC was under construction in Golden Gate Park. Dr. Farrington turned his attention to the play that would unfold on that stage, making sure the research, exhibition and education programs inside the new Academy would be every bit as "Platium" as the building itself.
For more information, visit www.aaaenc.org or contact Ariana Chandra at achandra@agsinc.com or (415)777-2166 x 14
Click here for the Save the Date flyer.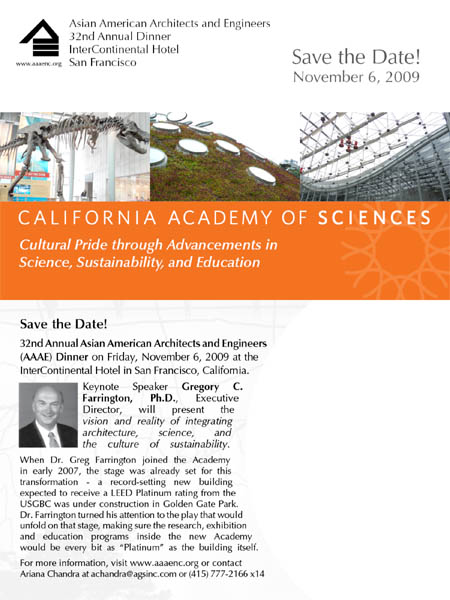 AC Transit Business Breakfast
November 10th, 2009
7:45am - 9am
AC Transit General Offices
1600 Franklin Street, 2nd Floor
Oakland
You Are Cordially Invited to Learn About
DOING BUSINESS WITH AC TRANSIT
A light breakfast will be served.
AC Transit staff will offer tips on the agency's procurement process and provide an overview of upcoming contracting opportunities in the areas of construction, professional services, and the purchase of equipment, supplies and materials.
Getting there:
AC Transit lines 1, 11, 12, 15, 18, 51, 72, and 72M stop one block away on Broadway at 17th Street. BART 19th Street station is also one block away. Paid parking is available at Franklin Plaza Garage (19th Street between Franklin Street and Broadway), and at Downtown Merchants Parking (1316 Franklin Street).
If you have questions or need more information, please contact Anne Fudge at afudge@actransit.org or (510 ) 891- 4733. We hope to see you on November 10th!
Alameda County Contractor Bonding Assistance Program
October 8th, 2009
8:30am - 11am
Martinelli's Event Center
3585 Greenville Road
Livermore, CA 94550
Attention Alameda County Construction Contractors: You are cordially invited to attend a grand event to kick off the NEW Alameda Count Contractor Bonding Assistance Program (flyer attached). This event is FREE OF CHARGE and will take place on Thursday, October 8th , 2009 at Martinelli's Event Center in Livermore. Join us from 8:30 to 11 am for networking, program information, refreshments and prizes!!
As a local or small local contractor, this program is geared to help YOU! Be sure to RSVP and DON'T MISS OUT! This is a unique opportunity to get the information you need to move your business forward.
Please open the flyer for more information.
Click here for program information.
Doing Business with Sacramento County
October 9th, 2009
9am - noon
The Stockton Boulevard
Business Information Center
4990 Stockton Boulevard
Sacramento, CA 95820
FREE
Topics Covered :
Successful Proposal Development
Successfully responding to a BID
How to promote your business to the right Sacramento County Department
Information on the County's Procurement Opportunities Program
Small Business Outreach and Education Program and Preferences
Please open the flyer for more information.
Northern California Caltrans Sponsored Training
October 17 - November 21, 2009
West Bay Community Center
1290 Fillmore Street @ Eddy Street
San Francisco, CA
Caltrans sponsored construction management and inspection testing program for transportation projects. Classes to be held in San Francisco on October 17, 2009 through November 21, 2009
Click here for flyer.
Click here fore schedule.
ABA-SV presents
"Stimulating Small Business Growth in the Current Economy"
Thursday, June 11th, 2009 4pm - 6pm
475 N. Whisman Road., Suite 100
Mountain View, CA 94043
Discover the latest Small Business Administration initiatives to help "stimulate" small businesses in the current economy
Special guest speakers from the Small Business Administration
The economic recovery depends and will be driven in large part by small businesses. This workshop will provide information on how small business owners can access the credit they need to support an economic recovery. RSVP @ abaofsv@comcast.net. The cost to attend is $5 and refreshments will be provided.
AAAE Open House
San Francisco Airport Projects in the Coming Years
Tuesday, June 23rd, 2009 5:30pm - 8:30pm
Canton Dim Sum & Seafood Restaurant
655 Folsom Street, San Francisco, CA 94107
Phone Number: 415.495.3064
Limited parking in lot at rear, or street parking
MEMBERS – FREE* All AAAE Members who RSVP and have Paid 2009 Membership Dues.
NON-MEMBERS – $45* All Non-Members and Guests of AAAE Members who RSVP by June 18, 2009.
LATE REGISTRATION FEE – ADDITIONAL $10 All AAAE Members and Non-Members who RSVP after June 18, 2009 and/or register at the event.
Click here for flyer and RSVP form.
Please contact Jane Meinhardt (415.505.3724) should you have any questions regarding the event. The membership application can be found on our website, http://www.aaaenc.org
San Francisco Bay Area Rapid Transit District
Office of Civil Rights
Informational Meeting
Thursday, May 7th, 2009 4pm - 6pm
Joseph P. Bort Metro Center
101 Eighth Street, Oakland, CA 92607
BART will host this informational meeting to provide an update on its plans to reinstate DBE goals on federally-funded construction contracts.
If you would like a copy of the Study prior to the meeting, let us know and one will be emailed to you. You can also download a copy of the Study after May 4, 2009, from BART's website, www.bart.gov/ocr.
Seating is Limited. Please RSVP by 5:00 P.M., May 6, 2009
Direct questions to Bendu Griffin, bgriffi@bart.gov or to 510-464-7657. To confirm your attendance, please complete the registration form and fax it to 510-464-7587 or email information to bgriffi@bart.govby close of business Wednesday, May 6, 2009.
Second Annual Caltrans
Calmentor Celebration Event
Friday, May 22nd, 2009 8am - 3pm
SAVE THE DATE!
Industry Capacity Expansion
Meeting Today's Infrastructure Challenges
Caltrans District 4 cordially invites you to attend this unique event.
The Event will be held on Friday, May 22, 2009
on Treasure Island, adjacent to the new Bay Bridge Replacement Structure in the San Francisco Bay.
This dynamic event will include:
workshops for consultant firms
networking opportunities between small, emerging, and established private firms and public agencies
information on future contracting opportunities
on-site certification
and much more…
Event specifics (including event agenda, guest speakers, workshops, on-line registration, and costs) will be released shortly.
On-line registration will begin April 4, 2009.
Confirmed Attendance By: Caltrans Director Will Kempton
Click here for flyer.
Responding to RFPs Request for Proposal
Learn the techniques of putting together winning proposals
Thursday, May 28th, 2009 8am - 12:30pm
Sacramento Regional Transit District Auditorium
1400 29th Street
Sacramento, CA 95816
Click here for flyer.
Cost:
FREE (Includes continental breakfast and course materials.)
Schedule:
8:00 a.m. to 9:00 a.m. Continental breakfast and networking with Sacramento Regional Transit District's Procurement Staff
9:00 a.m. to 12:30 p.m. Responding to Request for Proposal course
This course will cover:
How to locate government RFPs
How to review RFPs and decide whether or not to develop a proposal
Key elements of proposal formats
Developing a "requirements matrix"
How to develop a proposal team
How to coordinate subcontractor proposals
Defining the scope of work
Understanding the administrative tasks of non-complex and complex proposals
How to finalize the proposal
How to prepare for negotiation
How to get valuable feedback after the contract has been awarded
Registration:
Pre-registration is required. Seating is limited. Register online at: www.TheFTC.org/rfp
For questions, call The Federal Technology Center at 916.334.9388.
Doyle Drive Replacement Project
Contractor and Small Business Meeting
Wednesday, April 8th, 2009 3pm - 6pm
Golden Gate Club, 135 Fisher Loop
San Francisco, CA 94129

The Doyle Drive Replacement Project team would like to invite you to learn more about the upcoming project contracts and bidding process and also to network with other contractors and
small businesses.
Prime contractors, please RSVP to:
(415) 263-5953 or doyledrive@circlepoint.com
AACA - 2009 Annual Dinner
Saturday, March 14th, 2009 5:30pm - 10:30pm
Grand Ballroom, Intercontinental Hotel
888, Howard St., San Francisco
Phone number: 415.616.6500

You are cordially invited to attend the AACA 2009 Annual Dinner!
Keynote Speaker: Supervisor Carmen Chu
NEW!!! A "silent auction," with many wonderful prizes!!!
We are also delighted to invite the following honorable officials from the City and County of San Francisco to join us in celebration:
Honorable Mayor Gavin Newsom
Chief Administrative Officer
Members of the Board of Supervisors
Directors of Department of Public Work
Directors of Department of Building Inspection
Chief of Police Department
Other directors of City Government
Representatives from City College of San Francisco
Please mark your calendar for this special event. Tickets are $120.00 per person or $1,200 for a table of 10 guests (purchase of a full table will entitle you to have your name printed on the dinner program, if your reservation is made no later than March 3). Tickets can be purchased by mail, fax or phone, from
Mr. Yum Jung
1649 Jerrold Avenue, San Francisco, CA 94124
Ph: 415-642-1818 Fx: 415-642-1840
Please remember to make your reservations no later than March 7, 2009. We look forward to seeing you all there at the dinner.
Asian Business Association - Silicon Valley
C.C. Yin - Franchisee Extraordinaire!
Wednesday, March 18th, 2009 5:30pm- 7:30pm
475 N. Whisman Rd., Ste. 100,
Mountain View, CA
Come meet, listen and learn from one of the most successful franchise owner ever!
C. C. Yin owns and operates over 20 McDonald's franchises.
He will share the following:
How can you become a successful entrepreneur?
What are the challenges to owning so many franchises?
What do new and starting entrepreneurs need to avoid in starting a new business?
What do you need today to succeed as an entrepreneur?
Admission: $5 members, $10 for non-members
Appetizer Tasting sponsored by: " Dream Dinners" of Los Gatos
RSVP by March 6, 2009 to abaofsv@comcast.net or call 650-210-8210
Seating Limited – ACT NOW!
Sponsored by:

Expense Reduction Analysts
Click here to download flyer to register.
California Unified Certification Program
Disadvantaged Business Enterprise
Certification Workshop
Wednesday, March 25th, 2009 1pm - 4pm
One South Van Ness Avenue (BofA Bldg. @ Market Street_
2nd Floor Atrium Conference Room
San Francisco, CA 94103

Why you should attend:
Learn how a DBE certification can provide you access to federally funded projects
Bring your DBE certification application and receive one-on-one assistance with completing your application (Go to http://www.dot.ca.gov/hq/beq/ to download application)
Receive information on upcoming projects from agencies throughout the district
RSVP to:
(415) 701-4436 or sheila.evans-peguese@sfmta.com
ABA-SV Chinese New Year Celebration Business Mixer & Dinner
Economic Outlook 2009
Friday, February 6th, 2009 5:30pm - 8:30pm
Ming's
1700 Embarcadero Road
Palo Alto, CA 94303
Speaker: Gary Schlossberg, Senior Economist
Wells Capital Management Group
Economic and Financial Projections for 2009
Special Ming's Year of the Ox Banquet
Far East Dragon Lion Dancers
$20.00 – Donation (ABA of SV members & Wells Fargo Bank clients) - $50 Value
$25.00 – Donation (non-members & guests)
FREE – with Membership to ABA of SV of $100.00
R.S.V.P. @ abaofsv@comcast.net
| | |
| --- | --- |
| Sponsored by: | |
NCCABA - Stimulating Change Summit
Supplier Sourcing Roundtable
Friday, February 27th, 2009 8:00am - 4:00pm
Crowne Plaza Mid Peninsula Hotel
1221 Chess Drive, Foster City, CA 94404
Why Call it Stimulating Change Summit? The National Council of Asian American Business Associations (National CAABA) is committed to creating value added and relevant programming for our members and partners. It is this commitment that motivated us to change our previously entitled "Business Partnerships and Connections" event on February 27th at the Crowne Plaza Mid Peninsula Hotel to be named the "Stimulating Change Summit".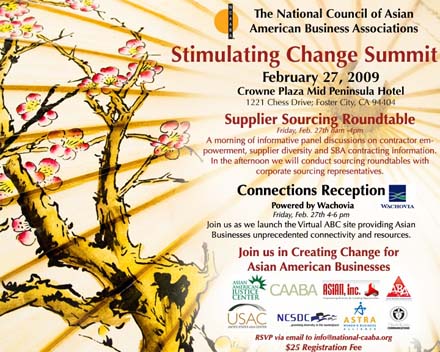 Beyond the name change this exciting event has continued to evolve by creating opportunities that will provide you valuable resources such as the Virtual ABC Website and access to sourcing, certification and contract specialists. With this agenda and your participation we intend to be catalysts for change through our summit.
National CAABA will continue to listen and act upon the feedback of our constituency by creating value added events for our membership.
RSVP: info@national-caaba.org
$25 Registration Fee
February 26-27th, 2009
Crowne Plaza Mid Peninsula Hotel
AAAE - 2009 Open House
Tuesday, January 20th, 2009 5:30pm - 8:30pm
Canton Dim Sum & Seafood Restaurant
655 Folsom Street, San Francisco, CA 94107
Phone number: 415.495.3064
Limited parking in lot at rear, or street parking
You are cordially invited to join us at AAAE's Open House:
San Francisco Municipal Transportation Agency
Central Subway Project Update
Contract Opportunities for Final Design
SPEAKERS:
Mr. John O. Funghi, Program Manager, Central Subway, SFMTA
Ms. Virginia Harmon, Equal Opportunity and Diversity Manager, SFMTA
MEMBERS – FREE*
All AAAE Members who RSVP and PAY the 2009 Membership Dues by January 16, 2009
NON-MEMBERS - $45*
All Non-Members and Guests of AAAE Members who RSVP by January 16, 2009
LATE REGISTRATION FEE - ADDITIONAL $10
All AAAE Members and Non-Members who RSVP after January 16, 2009